Welcome to the School of Mathematics and Statistics
Mathematics and Statistics underpin almost every aspect of today's society. Whether it is technology, business, science, social science or education, mathematics and statistics are used. Our School has an international reputation for excellence in research and in teaching, so come and join us.
Have LEGO toys become more violent?
23 May 2016 LEGO toy products have become significantly more violent in recent years, according to newly published research from the University of Canterbury. (read article)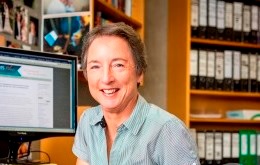 Phillipa Gourdie UC Teaching Award recipient 2016
Phillipa's work as a Senior Tutor involves supporting students in the transition to university as well as teaching first year mathematics. Her teaching is described by students as enthusiastic, effective, enjoyable, and exciting – even for mathematics! (read article)
MathSoc at UC
MathSoc is a free to join student-run club at the University of Canterbury. We run social and academic events for students who are interested in Mathematics and Statistics and provide support for students taking MATH/STAT courses.